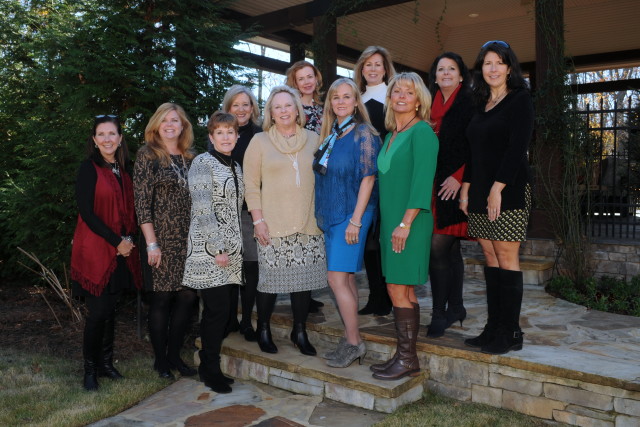 Each holiday season, our homes fill with excitement, togetherness and tradition. This holiday season, all of these elements came together once again for the 2015 Huntsville Symphony Orchestra Guild Silver Tea.
The 50th Anniversary of the Silver Tea, which is a major fundraiser for the Huntsville Youth Orchestra, was held recently, and, as always, the Silver Tea offered a magical and elegant afternoon. Guests enjoyed the ambiance of a beautiful setting and the music of some of the area's most talented young musicians.
The lovely home of Mr. and Mrs. Michael William Wicks located at 600 Eagles Ridge Place was the site of this year's tea. The home was decorated throughout and provided each guest with a warm, festive, holiday atmosphere. The elegance of the home offered the perfect environment for the Huntsville Youth Orchestra to perform and friends to reconnect. Catering was provided by Sallie Ennis and Betty Lankford and the presentation of all the delectable treats was stylish and festive.
As guests arrived for the holiday event, Karen Morris, 2015 Silver Tea Chairman, and her committee welcomed them to a very special afternoon of music, delicious tea foods and warm hospitality. Young musicians from the Huntsville Youth Orchestra performed an array of music and entertained guests as they mingled.
Members of the Huntsville Youth Orchestra Board, Deborah Brown and Bruce Zeiger, as well as Guild President Debbie Washburn and Hostess, Christine Wicks also welcomed guests as they arrived,
Other members serving on the committee with Karen were Advisor, Theresa Taylor; Catering Liaison, Amelia Summerville; Cloak Room, Pat Cross; HYO Liaison, Ashley Walker; Invitations, Marie Newberry and Donna Shergy; Data Base, Joyce Griffin and Dana Town; Past President Punch Bowl, Debbie Overcash; Silver Bowl, Linda Akenhead; Volunteers/Hostesses, Karen Higgins and Margaret Anne Crumlish; Transportation/Security, Darla Malueg; Reservations, Elizabeth Herrin; Publicity, Sandy Knowling and Lisa Cole. Also providing time and assistance were Mr. Tim Malueg, The Rev. John Ryberg and Mr. Sanford C.Morris Jr. who kindly took time from their professional careers to greet guests and help them from their cars to the entrance.
Much to everyone's joy, members of the Huntsville Youth Orchestra presented a mixture of popular holiday tunes and standard classical works. The afternoon performers were scheduled by HYO Executive Director, Deborah Brown and included; Gabriel Abrantes (violin), Jonathan Abrantes (violin), Anna South (cello), Maleah Ghem (viola), Katherine Reardon (bass).
The Huntsville Symphony Orchestra Guild is an organization whose primary purpose is to provide support for the Huntsville Symphony Orchestra. The organization is celebrating its 55th year of existence and looks forward to helping support the Orchestra and community. The Silver Tea is held annually as a benefit for the Huntsville Youth Orchestra. It has provided significant support for the young musicians throughout the years.